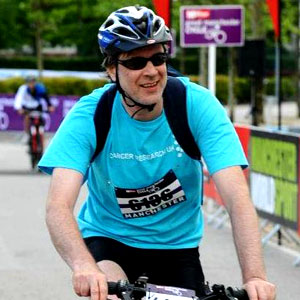 Andrew Thomas, Research Fellow in the School of Materials, cycles from Hyde
What inspired you to give cycling a go? I just wanted to try to improve my general fitness and start using my bike, which was sitting in the shed doing nothing. I started off taking the bike on the train and getting off at stations further and further from the University as my fitness improved and until I felt confident enough to do the whole distance.
What do you enjoy about cycling to work? I just like being out on my bike. I also like the fact my general fitness has improved massively – and the money I save on train fares. I have managed to find a route home that is about 50% off road through the back of Debdale park.
What would you say to other people thinking of giving cycling a go? Go for it. Try a short distance at first – if you get the train, take the train to Piccadilly and cycle from there. UMBUG are really helpful as are the Transport for Greater Manchester cycle people. There are loads of maps online and UMBUG can help you find a buddy to show you the best and quietest routes. If you don't have a bike or yours is getting on a bit you can get tax-relief on a new bike and all of your safety equipment through the cycle to work scheme.
Read more cycling stories.