If you are a staff member who cycles, consider yourself a member of UMBUG! We'd love you to come along to any of the one-off, monthly and annual events we organise. You can also:
join the UMBUG projects team if you'd like to be more involved in the organisation and direction of UMBUG (see below);
join the Buddy system here;
contact UMBUG at umbug@manchester.ac.uk;
follow @umbug1000 on Twitter;
like the UMBUG Facebook page for updates;
join in the discussions on the UMBUG Facebook group;
check out our photos on the UMBUG Flickr page.
To join the University cyclists mailing list, you can either:

If you'd like to be more involved in the organisation and direction of UMBUG, please come along to the monthly UMBUG projects group meetings. We usually meet 12:30-13:30 on the first Tuesday of the month. Email umbug@manchester.ac.uk for more information and the date and location of our next meeting. Issues discussed at meetings include:
event organisation (including the corridor Annual Cycle Event usually held in June);
UMBUG promotion and communication;
current cycling infrastructure and working with Estates;
campus cycling routes;
flexible cycling and promoting modal change from cars to bikes.
The idea…
Plenty of people cycle to the University.
Plenty of people are thinking about cycling to the University.
So, let's put plenty of people in touch and have twice as many cycling in!
How it works…
Just click on one of the areas on the map below for a list of contacts or volunteer to be a Buddy!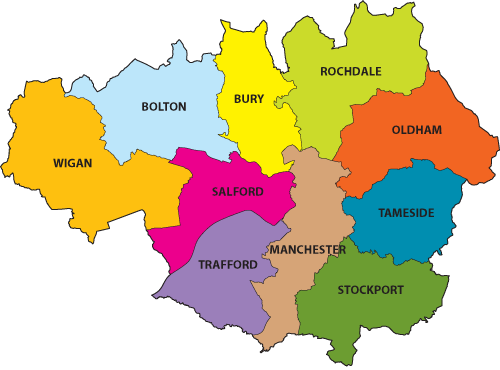 NB GM Map Image (c) TfGM