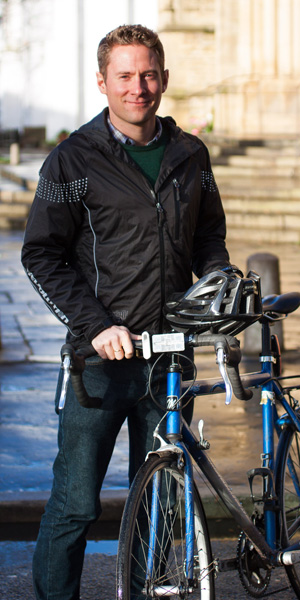 Geoff Blunt, Core Services Officer in the Faculty of Life Sciences, cycles from Chorlton
What inspired you to give cycling a go? I am a cheapskate at heart, and also pretty impatient! Cycling is by far the quickest and cheapest way for me to travel the 3 miles from home to work and, particularly in winter, I find waiting at bus stops in the cold so frustrating; I'd much rather be warm from exercise and not dependent on the bus schedules.
What do you enjoy about cycling to work? It's a smugly exhilarating feeling to zoom past the gridlocked cars, secure in your own cycle lane (where available!) and I enjoy the exercise – as my commute is only a short one (20 minutes, tops), I come into work warm but (hopefully) not sweating and it helps me start the workday energetically and positively. As I work in a windowless office, on some days my commute can also be my only outdoors time so I'm glad not to be using a car or bus and stepping from one enclosed space to another.
What would you say to other people thinking of giving cycling a go? The cost/benefit of cycling is enormous, and, unless you're commuting 10 miles or more, you don't need to go mad on an expensive bike or top-to-toe cycle clothing. As long as you have good lights, a helmet, wind-proof jacket and a recently-serviced bike (no matter how old) you are good to go. It's great for your health, both physical and mental, and while not without risks, there's a lot of training and support available out there if you need it, often subsidised or even free. I can't wait until Oxford Road becomes a taxi/bus/cycle-only route, it should make cycling even more attractive.
Read more cycling stories.