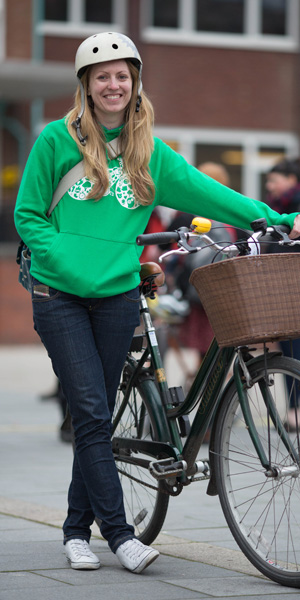 Rachel Lea, Executive Assistant at the Manchester Business School, cycles from Withington
What inspired you to give cycling a go? I've always hated the bus so I used to walk to work from Withington which took me 45 minutes! I only really considered cycling when I discovered hybrid commuter bikes. As soon as I saw the Pashley-style city bikes with a leather seat and wicker basket I was sold. I hadn't cycled on the road much since cycling proficiency lessons at school so I attended a free BikeRight training session which really helped to boost my confidence on the road.
What do you enjoy about cycling to work? The biggest advantage of cycling is the freedom to go anywhere you want, when you want, unconstrained by timetables and traffic jams.
What would you say to other people thinking of giving cycling a go? Just do it. There is so much support out there for cyclists. Don't be put off by Oxford Road – there are many alternative, more cycle-friendly routes to choose from. The UMBUG buddies are happy to help new cyclists find the best route for them. Also, don't worry about the weather – cycling in the rain really isn't that bad if you invest in some waterproofs.
Read more cycling stories.