We reproduce this press release without comment!
MANCHESTER CYCLING FESTIVAL BEGINS WITH NUDE BIKE RIDE
Hundreds of people are set to take to the streets of Manchester for a fortnight of free cycling events including the now infamous World Naked Bike Ride.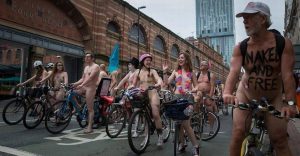 On Friday 9th June more than 200 brave cycling enthusiasts are expected to gather in Manchester for the incredible 'bare as you dare' ride. Ride organiser Andrew Fisher says "It's all about getting cyclists to be more visible on roads. Drivers say they don't see you, we're saying cyclists need to be seen to get their fair share of the road." Similar events take place in cities across the world and aim to highlight the vulnerability of cyclists.
The nude ride marks the beginning of North West Velo Fest 2017. This popular, free festival is now in its 6th year and despite appearances isn't only for the naked or lycra-clad crowd. Festival organiser Joe Hulme says "There's something for everyone, obviously the naked bike ride is the one everyone notices, who couldn't? But it's not all about getting your kit off. There are lots of other less scary opportunities to feel the wind through your hair in new places."
The festival runs for two weeks from Friday 9th to Saturday 24th June. Events include a free bike tour of Manchester's musical history, a street party, led countryside rides and races with cash prizes. The full lineup is available at http://www.nwvelofest.com.